Tredsafe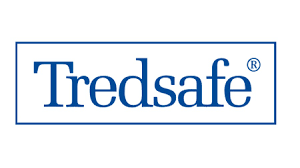 Tredsafe is the leading manufacturer for stair nosing and trims for commercial stairways. Built from anodised aluminium, Tredsafe Nosings are hard-wearing and easy to install, with an extensive range of stair-nosing profiles available to suit all types of stairs, both inside and outdoors.
Why Choose Tredsafe?
In every flooring installation there are junctions where different types of floor coverings meet. Tredsafe's range of anodised aluminium detail trims reduces the trip hazard of these junctions while providing an attractive, hard-wearing finishing detail. detail. Tredsafe's unique slip-resistant safety inserts are available in a range of colours in both muted and bold colours to provide both visual and texture indication of transitions or stairs while giving security under foot.
Erv Parent offers end-to-end floor and wall protection solutions for commercial spaces. Whatever your space requirements and budget, we can help outfit your building with the safest, most durable, and highest quality floor and wall protection solutions.
Products
Looking for More Technical Information?
Contact Us